Do you remember the last time you were able to enjoy a long, hot soak to get rid of any aches, pain or stress without having to worry about how to hop in and out of the bath? Now you can enjoy the bath again thanks to Windsor Bath's Serene lay-down walk-in bath. They allow you to enjoy that good soak again in comfort and safety. By replacing your current traditional bath which may now be awkward and difficult to use, you can now return to bathing like you're used to.
Installing a lay-down bath in the same place as your current traditional bathtub means that the same water and drainage points can be used to reduce installation costs by your local licensed plumber. With a simple in-swinging door (either left or right sided), low slip floors and a stylish design, our Serene model is extremely safe and accessible.
With the option of a shower screen add on, you can also use the lay-down bath as a shower basin, so you don't have to choose between a bath or a shower if you love both. Our Serene lay-down walk-in bath is an ideal way to future proof your bathroom.
The lay-down walk-in bath and shower combination
The Serene model is free standing bathtub that is 1550mm long, 760mm wide and 610mm high.
An optional shower screen is available for the Serene bath. This shower screen measures 1500mm high, 8mm thick and 720mm long. The length is made up of a fixed panel 190mm wide, a gap between panel and door and a door of 520mm wide.
Prices for the Serene Bath are including GST for:
Serene Plain (1550mm long) no spa and no taps $2,445.00 incl. GST

Serene w tap (1550mm long) but no spa $2,995.00 incl. GST

Serene w spa (1550mm long) But no taps $3,940.00 incl. GST

Serene w spa & taps (1550mm long) $4,490.00 incl. GST

Optional Wall mounted hand-held shower head with 900mm rail: $675.00 incl. GST

Freight costs will be extra and are based on the postcode that the bath needs to be shipped to.

Our Terms and Conditions of Sale (August 2021) apply.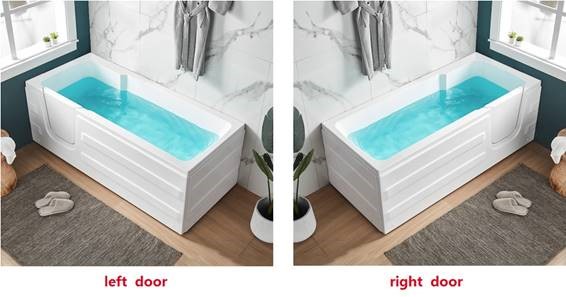 All prices include GST.
Each bath comes with a drain kit. You can select between a right or left-hand door at no extra cost.
Our hydrotherapy spa system is warm air based.
Delivery is not included. The delivery is postcode dependent and the cost is quoted for each order. Where possible, deliveries will happen with a tail lift truck to avoid the need for manual unloading of the bath.
Payment can be made by direct deposit, cheque or credit card (Visa and Mastercard only).
Make an enquiry about The Serene Model
Please provide your postcode to ensure we can provide you with an accurate transport quotation.